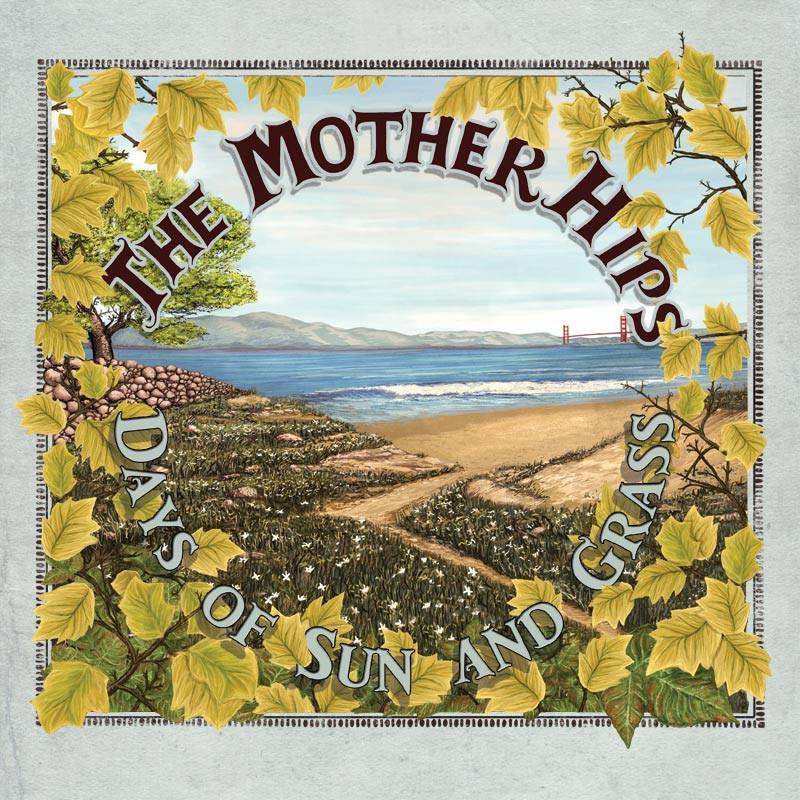 Commemorating 20 years of California Soul
The Mother Hips limited edition 4-CD box set entitled Days of Sun and Grass: Unreleased Outtakes, Demos, B-Sides and Live Cuts From Chico's Very Own 1990-2001.
The band and their archivist uncovered countless hours of tapes from the Mother Hips vaults to come up with the 4-plus hours of all unreleased music chronicling the first eleven years of the band's history and is arguably some of their best material ever released.
Complete Digital Download of entire 4 CD box set (57 tracks) 
88-Page booklet (pdf) of vintage photos, posters and extensive liner notes and commentary on each track from the band and those involved with the recordings
Digital download of exclusive 8-track Bonus EP
In honor of The Mother Hips' 20th anniversary, the band and its archivist poured over countless hours of old tapes to create this four-disc box set full of previously unreleased material. Days of Sun & Grass: Unreleased Outtakes, Demos, B-Sides and Live Cuts from Chico's Very Own 1990-2001 is not the complete story of the Hips. Instead, it captures the spirit of the band's definitive early days, roughly leading up to the two year hiatus that threatened to kill the group.
Laid out in chronological order – more or less – with 88 pages of liner notes, photos, press clips and more, the compilation begins in 1990 at Chico State University when Tim Bluhm (vocals/guitar) and Greg Loiacono (guitar/vocals) first met and established the bond that would become The Mother Hips. It then tracks the duo's progression into a full-blown rock and roll band recording with Rick Rubin and touring with Johnny Cash through the late '90s, when they began to release their music independently, switched drummers and honed their song craft. And for the hardcore fans, there's an entire disc dedicated to radio appearances that includes candid band interviews.
There's a reason that the Hips have made it 20 years and there's a reason that the next decade could be their best yet. Days of Sun & Grass is more than a celebration of the band's youth – it helps answer the question of how The Mother Hips evolved into the preeminent, definitive California soul-rock band that we know today.
TIM BLUHM guitar, vocals, keys
GREG LOIACONO guitar, vocals, keys
ISAAC PARSONS bass
PAUL HOAGLIN bass/answering machine
MIKE WOFCHUCK drums
JOHN HOFER drums
Produced by David Dolger Schwartz and Mother Hips
Mixed/Mastered by David Simon-Baker
(Mother Hips Records – 2011)
VOLUME ONE: MAN IT'S GONNA BE GREAT
1990-1992
1. Sasha's Song
2. Mother Hips (outtake)
3. Good Day Basketball
4. Mountain Time
5. My Life as the Opposite Gender (home recording)
6. Highway (live)
7. Dark As A Dungeon (home recording)
8. Don't Go So Fast
9. The Reason Why
10. Ten Tiny Fingers
11. Whiskey On a Southbound (demo)
12. Embrace Me Love Of Death (soundtrack)
13. Freedom (home recording excerpt)
14. Versus of Mark
14. I'm Not Sayin' (instrumental)
15. Sister Lee (Dai Dum) (home recording)
16. Lonesome Satellite
17. "Precious Opal" Answering Machine (extended)
18. Picture of Him (home recording excerpt)
19. Mary's Begging (home recording excerpt)
20. Fifteen (live)
21. Rock with the Rock (soundtrack)
22. Fumbling Parade (live)
VOLUME TWO: STONED ON
1993-1996
1. Smoke ('Shootout' outtake)
2. Probe Explodes
3. Virginia Mountains
4. Transit Wind ('Part-Timer Goes Full' outtake)
5. Know By Now (home recording)
6. Stoned Up The Road (demo)
7. The Message (live)
8. Engagement Ring (demo)
9. Suburbian Child
10. Please Don't Worry
11. Danielle's Hands (Acid Mix)
12. I'm Tired of Singing My Song In Las Vegas (live)
13. Magazine (demo)
VOLUME THREE: OUT, FAR AND ONWARD YET
1997 – 2001
1. Song In a Can
2. Kansas City Southern
3. Tired Wings (demo)
4. Sleepy Eyes
5. Incredible Man
6. Lady Be Cool
7. I Can't Stay
8. Gold Plated (demo)
9. Somewhere In Your Mind (live)
10. The Blimp of Freedom (instrumental)
11. Third Floor Story
12. The Doomsters
13. Such A Thing (demo)
14. Tiera Deavers
15. Rich Little Girl
16. Why Not Your Baby
17. Father Come Quickly (live)
VOLUME FOUR: A SERIES OF QUESTIONS
1990 – 1996
TIM BLUHM: vocals, guitar
GREG LOIACONO: guitar, vocals
1. KCSC – CHICO, CA 1990
Interview + Acoustic Tracks:
Fifteen
She's Got the Power
Johnny Too Bad
Out of the Rain
Verses of Mark
2. KRFD – SACRAMENTO, CA 12/28/93
Interview + Acoustic Track:
Countrywide
3. KRFD – SACRAMENTO, CA 2/9/94
Interview + Acoustic Track:
St. Andrew
4. 92X KNRX – DENVER, CO 2/9/96
Interview + Acoustic Tracks:
Shootout On 22nd Avenue
Verses of Mark