NEW STUDIO ALBUM, BEHIND BEYOND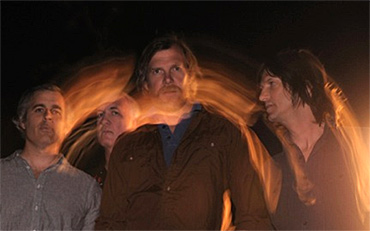 With the release of their eighth studio album, Behind Beyond, via their own imprint label on July 9, 2013; Northern California's the Mother Hips celebrate their 20th anniversary as a band. This album follows their 2009 studio release, Pacific Dust, and a four-disc retrospective compilation, Days of Sun and Grass, both of which garnered critical praise from outlets including The New Yorker, Mojo, Relix, Rolling Stone, Pitchfork and cemented the band's reputation as creators of "California Soul."
Behind Beyond, recorded over the past year at Mission Bells Studio in San Francisco with co-producer Dave Simon-Baker, finds Bluhm wading cautiously into midlife, exploring thoughts of mortality as if it were a hazy dream. Loiacono, the man behind the many instrumental passages that weave through the album, says that this album "stretches out a lot more than any of our other records." There's a sense of ease with these songs, from the laid-back feel of "Isle Not of Man" to the psychedelic guitar interplay of "Jefferson Army."

Bluhm is the tall, rugged, frontman that pulls the listener in while Loiacono is the compact, explosive guitar ace that drives the music. But it's their partnership -- the unique, almost brotherly way they sing and play together -- that defines the band.

When asked what makes this album special, the two bandleaders come at it from a different angle. Loiacono references the second track, "Freed From A Prison," a song he wrote but that Bluhm sings, citing the ability to let go of the song that made it work. "That song is about the concept of being freed from a prison you didn't even know you were in," he says. "It's this idea of finally opening up to an experience that was there for you the whole time. To me, a lot of this album is like that."

Bluhm says that making the music meaningful -- going beyond just having a solid, well-played tune -- is the most important thing for him. "It's about making creative choices that are unconventional but that are still appealing that hopefully can reach the listener in a way they didn't expect and affect parts of their heart and mind they didn't expect to be affected by rock music, he says. I'm trying to make music that has a spiritual aspect where it's more than just a good song and more than just a rocking band or a commodity, an emotional experience that you might not even know is happening because it's surrounded by a loud rock band."
Tracklist:
01 - The Isle Not of Man
02 - Freed From a Prison
03 - Toughie
04 - Jefferson Army
05 - Best Friend in Town
06 - Creation Smiles
07 - Shape the Bell
08 - Behind Beyond
09 - Rose of Rainbows
10 - Song for J.B.
PURCHASE BEHIND BEYOND AVAILABLE ON CD, VINYL OR DIGITAL WITH BONUS TRACKS!